Founded in 1888, Widd Signs is credited as being one of the original signage companies. The same founding values that made us an instant success in the 19th Century run through the business today; innovation, design, excellence and honesty.
Now in the 21st Century, we provide the signage for many accommodation projects across the UK and beyond.
We have designed, manufactured and installed signage for all different types of accommodation, and we've recently worked on a number of high-end residential projects so here are our key considerations when choosing your residential accommodation signage:
Luxury:
When creating luxury residential accommodation, the signage needs to be in keeping with the luxurious feel – using quality materials for your signs, such as brass, gold or Corian, adds to this aesthetic.
Consider the colours, imagery and font your design is in too. Choose the elements that offer a premium feel compared to basic typefaces, and ensure your signage matches the rest of the design font, colour palette and graphics.
Height:
Such accommodation is often several storeys high so care needs to be taken to create and safely install on-brand signage across every floor at the same locations so it flows effortlessly throughout the building.
Where a building is large, wayfinding signage is key to easily direct residents and guests to where they need to be (and where they shouldn't!)
Lighting
Consider illuminated signage for key branding points to stand out, for example, at the top of a tall building, and at concierge or reception areas.
Heritage:
When a development has a unique piece of history linked to it, it's important to preserve and showcase that heritage such as in the plaques we created for Stonebridge Beck residential development in Farsley, Leeds, working with Rushbond PLC.
Further examples of the signage Widd Signs creates for residential accommodation include:
Crown Street Victoria Residence next to Deansgate Square in Manchester
This two-month project saw Widd Signs manufacture and install high-spec internal and external branding and wayfinding signage at the luxury residential scheme, comprising two towers 21 and 52 storeys high respectively.
The signage, which ranges in size and style, includes fingerpost wayfinding signage and totem-style identity branding at the entrances to both towers.
Commissioned by Renaker, the Manchester-based developer behind the scheme, alongside wayfinding consultants f.r.a., who developed the initial high-end signage designs and wayfinding, the project was completed in 2022 and consists of 664 luxury apartments and superb facilities, including a swimming pool on the 44th floor (one of the highest in Europe), communal gardens and a 24/7 hotel style concierge.
Working with long-standing client Winvic Construction, we were appointed to work on the signage project for Lionel House Developments & Aberdeen Standard Investments.
Lionel House is a new build 15 storey Build to Rent residential development in the Jewellery Quarter conservation area of central Birmingham.
The scheme comprised 259 high-quality managed apartments, broken down into 156 one-bedroom, 90 two-bedroom and 13 three-bedroom apartments.
A landscaped rooftop terrace was designed to give residents access to social rooms and external social space with a 360-degree skyline view of the city centre. Full LED lighting was used throughout, and feature lighting was used in the ground floor social area.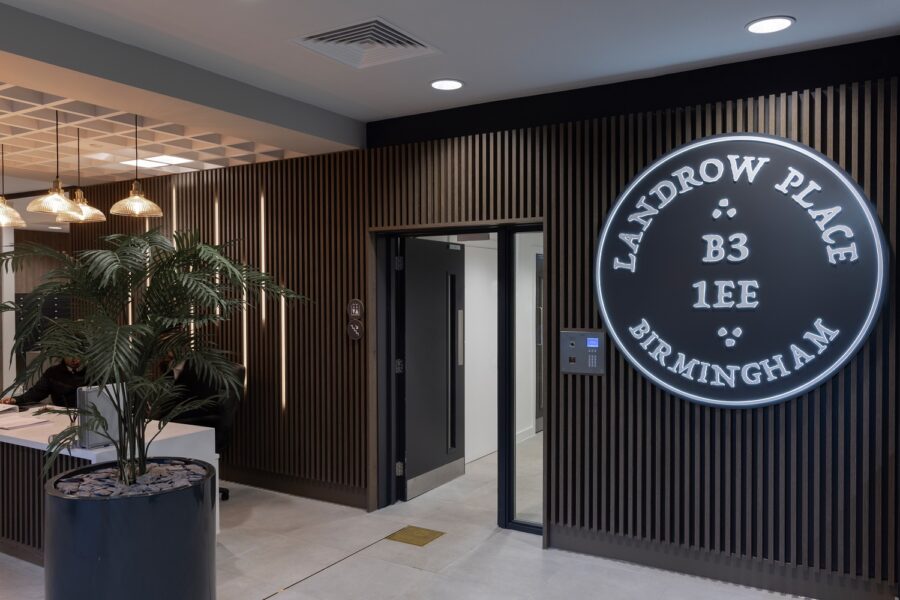 With such a large-scale luxury development, good quality wayfinding signage was key, and we put our longstanding quality craftsmanship to work to create almost 500 signs using top-quality brass and gold to ensure its new residents instantly felt at home.
We designed, manufactured, and installed 490 high-quality signs ranging from internally illuminated built-up letters and fabricated aluminium circular projecting signs externally, to aluminium directional and door signs with fabricated brass frames and laser cut gold acrylic text/ numerals and digitally printed logos all with sustainable and recyclable raw materials in mind. The whole scheme was designed, manufactured, and installed within six weeks, and received positive feedback from the client and its residents.
We're delighted to have manufactured and installed external and internal signage at The Filaments development in the heart of Salford.
The six-month project saw us manufacture and install over 1,000 high-spec external and internal signs at the luxury £80m development on Gore Street, which comprises of 376 homes, including a mixture of 365 apartments and 11 townhouses across three blocks – Neon House, Halogen House and Lamp house.
The signage, which ranges in size and style, with some signs as large as seven meters in length, includes striking fingerpost wayfinding signage and totem-style identity branding.
The Filaments, which sits in the heart of Salford's vibrant Chapel Street corridor, is also home to a gym, residents lounge, co-working zone and a host of other amenities, which combined total over 6,500 sq. ft. of shared space for residents – all of which boast signage installed by Widd Signs.
Mustard Wharf and The Headline
We recently completed signage work for several newly-created residential developments across Leeds city centre, including Mustard Wharf on the South Bank (built by construction company Sir Robert McAlpine) and The Headline which is located on the historic site of the former Yorkshire Post building.
For both schemes, we manufactured and installed hundreds of striking external and internal signage, based on designs created by wayfinding and brand consultancy f.r.a. This included external and internal wayfinding, as well as room numbering and branding, with an array of high-quality materials used including brass and corian.
Located at Wharf Approach, overlooking the Leeds Liverpool Canal, Mustard Wharf offers a mix of one, two and three-bedroom apartments, with the complex also boasting an on-site gym, and two clubhouses complete with private dining rooms.
The Headline, located on Wellington Street, is the latest project from the UK's largest listed residential landlord, Grainger plc – its first build-to-rent development in Leeds, featuring 242 new homes.
We completed a five-figure project at the prestigious Hudson Quarter, a newly created £35 million mixed-use development opposite York Railway Station.
The project saw us design, manufacture and install more than three hundred signs at the sustainably built development, which comprises of three blocks of luxury apartments and penthouses, alongside a further building containing Grade A office space.
Ranging in size and style, the high-spec signage includes both external and internal wayfinding, as well as room numbering throughout each of the blocks.
Commissioned by joinery firm Wroot Contracts, who have supported developer Caddick Construction on the scheme, Jonathan Wroot, director at Wroot Contracts, said:
"We're delighted to have partnered with Widd Signs to complete this luxury development.
"Their attention to detail and commitment to quality craftsmanship is evident in every sign, with their team making it easy to execute what on paper was a challenging brief."
Get in touch to discuss your accommodation signage requirements at:
Leeds: 0113 279 4144 or St. Helens: 01744 815 005 or email hello@widdsigns.co.uk.